Obesity Prevention in Children and Teens
Obesity Prevention in Children and Teens
By Hans Diehl, M.D. www.chiphealth.com
What Can Be Done About Preventing Obesity In Children and Teens?
The major causes of obesity in children are the same as for adults—a sedentary lifestyle, TV viewing, the snack and soda habit, and the popularity and availability of highly processed and concentrated foods. Many major medical centers are developing weight-control programs as a means of obesity prevention for children that involve the whole family. Proper eating and lifestyle habits are a family affair, and a youngster especially needs the support of the family. Even when the rest of the family is not overweight, everyone benefits from a healthier way of life.
Seven Secrets of Obesity Prevention in Your Child
Clinical psychologists and pediatricians feel that nearly all obesity in children could be prevented if children were taught the following sensible basic habits early, before they have free access to food and become addicted to TV:
1. Three meals a day. Eat at regular times with lots of whole grains, legumes, fresh fruit, and vegetables.
2. Control the cupboards. Get rid of tempting junk foods. Offer fruit and fresh veggies for snacks.
3. Drink plenty of water. Limit sodas, juices, and other beverages.
4. Exercise. At least an hour of active exercise daily, preferably outdoors.
5. Less TV. Regular, quiet study and reading times to replace the hours spent watching TV.
6. Plenty of rest. Many children are chronically tired. Put them to bed early enough so they awaken naturally, in time for a healthy breakfast.
7. A wide range of interests. How about library visits, music lessons, arts and crafts, and family outings.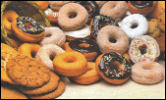 With 9 of 10 Saturday morning food advertisements on the networks hawking processed foods, high in sugar, fat, and salt, television significantly influences the food preferences of children from their early years. Teach your children and teens about preventing obesity and eating health.
The Wise Man once said:
"Train a child in the way he should go, and when he is old he will not turn from it."
Proverbs 22:6
Become a Member of Christian Care Ministry and explore the benefits of Medi-Share!