Coping with Stress
By Hans Diehl, M.D. www.chiphealth.com
There are many techniques for coping with stress, but here are some of the more important ones.
Healthy Adaptation means that you recognize the stressor, and you do something positive about it. Ignoring the problem, denial, or escapism are unhealthy responses in coping with stress.
Proper Planning and Organization. These steps are required to determine what it will take to accomplish a task before you begin.
Positive Mental Attitude. Don't be anxious about the future; take one day at a time. Worry tends to incapacitate, but seeing the problem as a challenge motivates and helps us in coping with stress.
Commit to a cause that helps others and is approved by God. Isaiah 58 is one of the Bible's most sublime prescriptions for health.
A Healthy Lifestyle. It's difficult to seriously damage a healthy body with stress. You can help protect your body against the harmful effects of stress with the simple inoculations listed in the table following this list.
Think on Elevated Themes. What we see and hear is under our control--movies, radio, TV, magazines, newspapers. Madison Avenue is successful because they use these mediums to focus attention on what we do not have, thus making us discontent. Remember: "The man who has little and wants less is richer that he who has much and wants more." Being content with who you are and where you are is a big plus in coping with stress.
Trust in God will provide a buffer against stress and a hedge against anxiety. Trusting God involves complete confidence in a personal God who understands and acts in our behalf.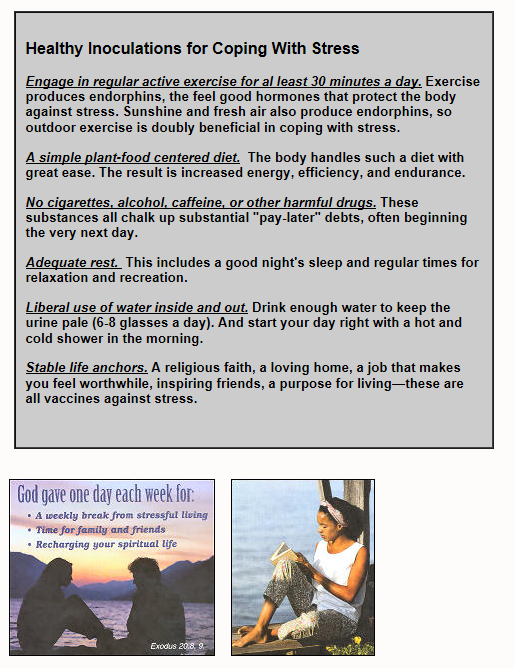 Become a Member of Christian Care Ministry and explore the benefits of Medi-Share!