Manna Christian Disability Sharing
What is Manna?
Manna is an innovative Christian Disability Sharing program where Manna members make voluntary monthly contributions to help other Manna members replace lost income due to accident or illness. Manna members also support each other through prayer.
Manna is not disability insurance and there is no legal obligation for Manna members or Christian Care Ministry to make contributions or payments for eligible replacement income.
*Manna is not available in TX (as of 1/2023),
and NH, and WA (as of 1/2024).
Why Manna?
According to the US Census Bureau, 20% of working people age 45 or older will suffer a disability that lasts 90 days or longer during their career. Working adults are three times more likely to become disabled than they are to die before the age of 65, according to the Social Security Administration.
The Manna sharing program brings Christians together to help each other voluntarily when they're unable to earn wages from their employer due to illness or injury. Just like Medi-Share, Manna is modeled after the early Christian church in the book of Acts.
Manna Members Contribute
How do I contribute as a member?
All Manna members contribute monthly to meet other members' needs who are approved to receive your sharing dollars. The amount of funds each member contributes monthly corresponds to their own personal financial need. The chart below describes how to select your level of contribution based on your income. The Manna Share amount includes both an administrative fee and a Variable Share Amount (VSA), which is based on the individual's annual taxable earned income and the chosen participation level. The unit level you select is directly related to the need amount(s) that other members fulfill when you have an approved medical event requiring Manna assistance. Each "unit" represents $2,200 of monthly financial assistance that would be eligible for sharing. You can easily budget for the cost of Manna because your monthly contribution will never exceed the "Manna Monthly Share" amount shown below.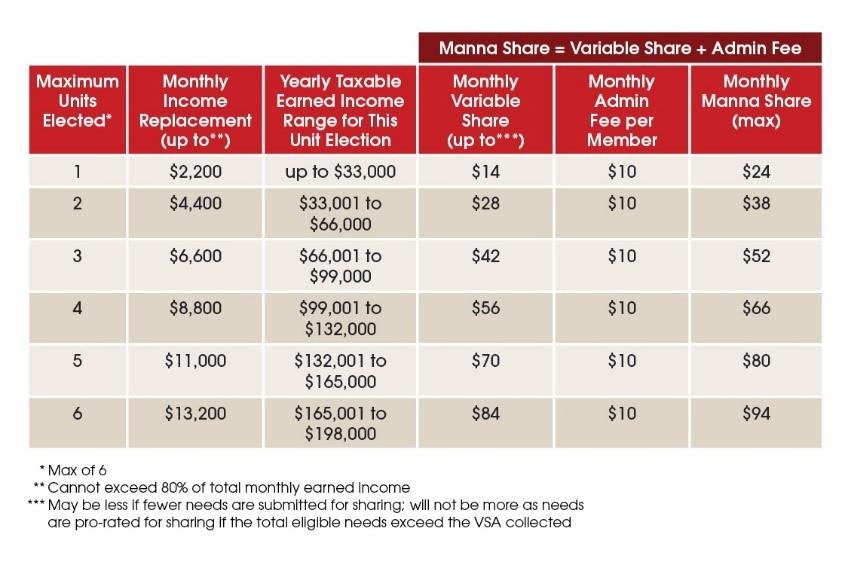 Manna for Peace of Mind
How does it work when I have a need?
Eligibility for sharing is determined when a Manna member submits a Request for Financial Assistance (RFA) form, which includes a doctor's findings. This determines the start and the end of the disability sharing period.
Eligible Manna members may receive monthly payment amounts, based on their chosen participation level, up to 80% of their taxable earned income. Based on the total monthly eligible payment amounts, Manna members are asked to contribute in accordance with their chosen participation levels. CCM then distributes, from the total contributions received, the payment amounts to each eligible member. If the total contributions received are less than the total eligible payment amounts, then each eligible member will receive only a pro-rata share of their payment amount. Sharing for needs is eligible only after the member has lost income for 60 consecutive days. Financial assistance ends when the recipient is able to return to work full-time or after 12 months of receiving disability sharing, whichever comes first.
For complete details, please refer to the Manna Guidelines.
How do I join?
An application for membership must be completed by each individual applying. The applicant selects a participation level (i.e. a number of "units"). There is a one-time application fee of $50 per member.
Join Now
Become a Member of Christian Care Ministry and explore the benefits of Medi-Share!