Manna Christian Disability Sharing
What is Manna?
Manna is a Christian Disability Sharing program where members make monthly contributions to help other members replace lost income due to a disabling event.
Manna is for individuals who lose the ability to earn income due to an accident or illness. It's another way for Christians to care for each other by sharing their need for replacement income in the event of a significant illness or injury. Manna members also support each other through prayer.
Join Now!
Why Manna?
According to the US Census Bureau, 20% of working people age 45 or older will suffer a disability that lasts 90 days or longer during their career. Working adults are three times more likely to become disabled than they are to die before the age of 65, according to the Social Security Administration.
The Manna sharing program brings believers together to help each other when they're unable to earn wages from their employer because of illness or injury. Just like Medi-Share, Manna is modeled after the early Christian Church in the book of Acts.
Manna Pricing
The Manna Share amount is based on a monthly administrative fee and a variable share amount (VSA) per unit elected. Each unit represents up to $2,200 of monthly financial assistance, not to exceed 80% of the total taxable earned income, which is wages, salaries, tips and other taxable employee pay.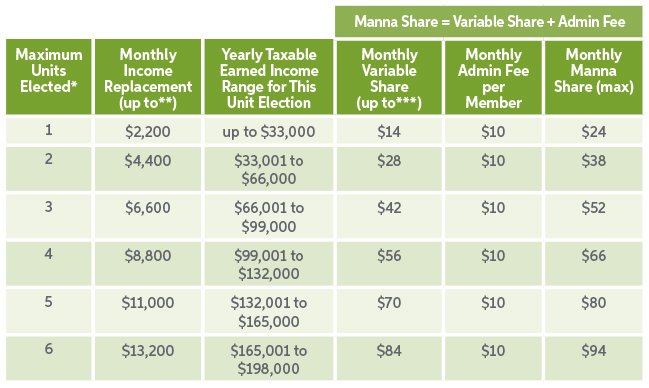 Manna for Peace of Mind
How does it work when I have a need?
Disability sharing is determined when the member submits a Request of Financial Assistance (RFA) form which includes a doctor's findings. This determines the start and the end of the disability sharing period.
Manna Members share in approved needs on a monthly basis in amounts up to 80% of your taxable earned income. Typically, this is the amount noted on line 7 or 12 on the 1040 tax form).
For complete details, please refer to the Manna Guidelines.
How do I join?
An application for membership must be completed by each individual applying. The applicant selects the number of "units" they need, which determines the maximum amount of sharing they could receive.
Each unit represents a maximum of $2,200 in monthly taxable earned income for that individual, shared at 80%.
Become a Member of Christian Care Ministry and explore the benefits of Medi-Share!